Digitally transform your business with intelligent data solutions
In today's digital landscape, information and data plays a pivotal role in digital transformation strategy. To achieve this, technology can be used as a way to remove manual data processes and simply replace them with automated ones.
Through automating processes, organisations can complete digital tasks in a fraction of the time in which it would normally take, and allow your business to improve how it interacts with customers.
90%
of the data that exists was created in the past 2 years
19 times
the average number of times a document gets copied
48%
of workers regularly send the wrong version of a document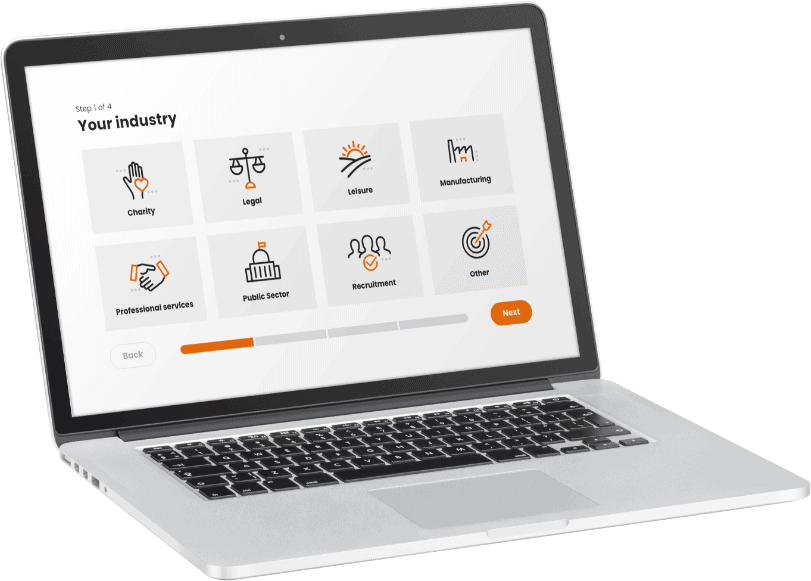 See how technology can improve your business…
There is an ideal technology solution for your business, whatever your objectives. From a full-scale digital transformation project to simply saving money on your current IT setup.
Answer 4 questions to find which solution is right for your business.
Saving costs with professional automation
On the bottom line, automation can reduce costs, improve efficiency and save time. Done properly, it can be applied to any type of company, with a custom recipe based on a range of technologies and services that help the business understand what it is, how it competes and what it needs to do to compete better using IT.
Digital transformation is a major topic for many businesses right now, at the top of the C-suite and IT department agenda. It provides a strategy to modernise old processes, to link up data silos and provide business leaders with a top-down view of the company, helping highlight ways to boost business performance, and enabling it to take advantage of future digital initiatives.
"

EBC Group provided us with a robust data solution and their in house team have excellent knowledge of the system and how to tailor it to our individual business needs. They have also provided us with the knowledge to develop and administer the system in house.

"

Productivity
Helping alleviate time-consuming manual tasks by automating processes and workflows with consistency and quality



Collaboration
Bringing together company wide data ensures the right people always have access to the right data, breaking down information silos

Cost savings
Eliminate the costs associated with manual tasks, by making processes quicker and more accurate, as well removing costly disparate systems


Competitive advantages
Automating workflows and processes frees up time for more important tasks, allowing you to invest and develop transformation strategies


Reporting & analysis
Clearly track business wide data with accurate reporting, and analysis that provides insights for actionable changes




Customer retention
Never miss a renewal date, service review or order placement again. Automated processes will proactively remind you of upcoming and outstanding tasks


Processing data can often be time consuming, with plenty of room for errors along the way, transforming your business with Robotic Process Automation (RPA) eliminates the risks associated with data processing, reducing staffing costs and increasingly productivity.
RPA is a cost effective solution, that is easy to implement, given that is doesn't require customer software or deep system integration. Providing a number of benefits, including improved business processes by adding automated components to routine desktop work. Its seamless integration works to enhance and streamline existing businesses processes, and aids manual data entry through the consistency in high volume data.
Although Robotic Process Automation (RPA) is a powerful tool for automating routine steps, intelligent automation can automate entire end-to-end processes. Like a human, IA can make intelligent decisions, based on dynamic information, and empowers employees thanks to its advanced smart technologies.
For businesses, IA provides a number of benefits including increased process efficiency, dramatically reducing process-handling times, organising, tracking and analysing valuable data. Additionally IA greatly reduces the risk of error, from data input mistakes to missed steps, improving the over all data accuracy and decision-making.
In a world full of data, trying to stay on top of workflows and information can seem like an enormous task, particularly when each department has their own storage methods and processes.
Information management, or enterprise information management (EIM), is designed to collect, store, manage and maintain information in all forms, bringing together business wide data into one centralised system. Information management provides multiple benefits, including cost savings and compliance with laws and regulations, additionally it provides transparency to workflows helping to streamline processes across departments.
EBC Group are award winning providers of data solutions, using expert and industry knowledge to drive business wide digital transformation. Our experienced team understand business challenges, and our consultative approach ensures we recognise your processes and technology before recommending and developing suitable data solutions.
Utilising our own state of-the-art technology, and our partnerships with industry leading experts, EBC Group provides solutions that help drive digital transformation through your businesses data. EBC Group can help you make sense of your current data workflows and processes, identifying where areas can be streamlined and ending information silos, creating a cohesive data environment.






Arrange a FREE IT Audit for your business