Unified Communication Solutions
Bringing all your communications sources together in one simple interface
Offering a host of Unified Communication and Collaboration (UC&C) solutions that integrate, simplify and unify your business communications in order to optimise your digital workforce.
EBC Group's Unified Communication and Collaboration (UC&C) solution brings together your email, text and voice work seamlessly with live voice, audio, video conferencing, and web collaboration, in one easy to use interface.
Unified Communications refer to the method by which messages from a variety of sources, such as IP telephony, email or video can be brought together in a single platform for the user to access, in real-time, wherever they may be.
UC&C tools are an integral part of creating a digital workplace and are key for keeping a remote workforce connected.
For example, they will be able to receive a voicemail message and choose to access it through either e-mail or a mobile phone.
EBC Group's unified communications platform runs on Swyx, which provides the most advanced IP-based communication system on the market.
Swyx offers you all the functionality of a traditional telephony system with so much more, including integrating voice with messaging and rich presence.
14%
revenue growth for UC in 2019
40%
of SMEs have deployed unified communications
67%
of organisations have deployed part of their UC solution in the cloud

Presence
Instantly see the availability of others, and display your own status saving time and avoiding unsuccessful communication attempts


Unified Messaging
Make your communication environment unique to you, by branding with specific contact information and quick dials




Single Number
One single number is easily routed to your mobile, desk or home phone, so you never miss a call again




Corporate Contacts
Linking up phone books across all locations saves time trying to retrieve contact details when you need them most

Click to Dial
Connect directly from Outlook or a web browser, without having to leave an application to type in a number

Customisable
Make your communication environment unique to you, by branding with specific contact information and quick dials
UC features allow all employees to easily collaborate from anywhere and in different ways, reach someone (internally or externally) in an instant. One of the features that many organisations are first interested in, is the ability for a single number to be assigned to a person's mobile device, home office or other locations, and have calls follow the person or push/pull between devices without having to disconnect and then reconnect the call.
Another popular feature, known as voicemail-to-email, allows voice messages to reach managers or employees when they're away from the office or working remotely by sending an audio file of the voicemail (such as an MP3, MP4 or .wav file) to the recipient's email. Other unified communications software that includes tools which redirect calls to back-up numbers if there's a power outage or network issues.
The main benefits organisations are interested in when looking at UC are:
Presence: availability of the other users
Unified Messaging: 1 inbox for emails/voicemails/faxes
Integrated Conferencing: Audio or Web based
Instant Messaging/Chat
Single Number Reach: calls are routed to a mobile, desk or home phone
Click to Dial: easily connect from Outlook and/or a web browser
Corporate Contacts: link-up phone books across all locations
Extension Dialling: from all locations, domestic and international
Customisable Menus: brand with specific customer information
Presence information often referred to as 'rich presence' or 'presence technology' is not a feature that you will find on a traditional office phone system. Real-time information gives you access to critical information, immediately, when you need it, rather than waiting or leaving messages for people to get back to you. Presence technology is a type of real time information, which is vital for effective mobile working.
As the technology syncs seamlessly with your current desktop applications including Microsoft Outlook, the system is able to combine contact lists with updates from a user's calendar. Equally, a user is able to change and update their presence status easily via the user dashboard. For example if an employee is in a meeting or on a call, the user's contact profile is updated automatically, informing their contacts that they are busy or unavailable.
Swyx:
Presence information in Swyx allows you to display your status of availability to other employees. Team members therefore know who is logged on and/or available, and can reach the right person immediately. Saving time and avoiding unsuccessful communication attempts.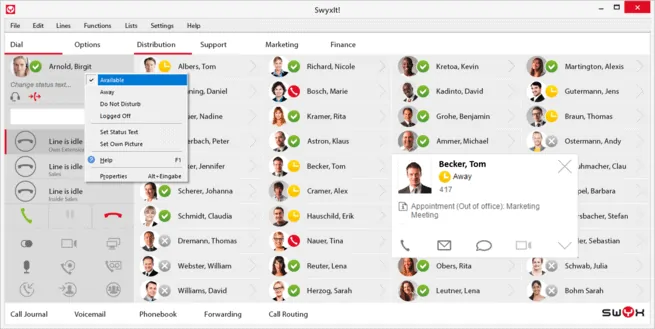 Being able to define your own speed dials for internal and external contacts means that you can access frequently dialled numbers as quickly as possible. Create your own tabs, which help you to structure your speed dials, such as by classifying them by departments. In addition a call journal will provide an overview of all incoming and outgoing calls, redials, missed calls, own call back requests, and recorded calls.
EBC Group's UC 'Swyx' solution enables the company phone book to show presence information, which means the user can search easily for entries within phone books or directly. Using the practical hotkey functionality, you can select and dial phone numbers in any Windows application at just the click of a mouse.
EBC Group's UC 'Swyx' solution, complements and combines Skype's Messaging and Collaboration features with the extensive telephony functions of Swyx. With the Swyx Connector for Skype you can seamlessly integrate all essential telephony features into the Skype interface. This means: No extra port for users to switch applications to use all performance features.
If you already use Swyx and Skype in your company all you have to do is to install the Swyx Connector on your PC workstation. This forms part of the installation package and is selected as an additional installation option. Once installation is complete you can use exclusively the Skype user interface to control all telephony functions. The Swyx Connector for Skype for Business is intended for enterprises which are using: the online-version of Skype for Business as part of Office 365, a local Skype for Business server, Skype for Business online from the cloud.
Manage of incoming and outgoing phone calls within the Skype user interface
Dialling from any application via Hotkey
Synchronisation of presence information between Swyx and Skype for Business
Manage standard call forwarding
Support of extended Call Routing (SwyxECR) with graphical Script Editor
Display of missed calls and voicemails
Use of Swyx phones as CTI device, use of any telephony device with SwyxCTI+
Management of Swyx audio devices
Support of DTMF during phone calls
Remote administration through system administrator
Support of Swyx Remote Connector for VPN-less connections







Arrange a FREE IT Audit for your business